The Foundation's Statement on Reports of CRSV in Ukraine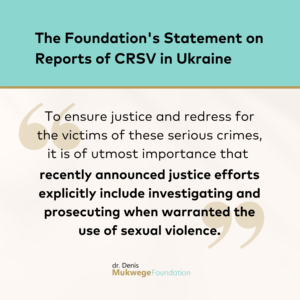 The Mukwege Foundation is extremely concerned as testimonies and allegations of sexual violence in the context of the war in Ukraine continue to be reported every day.
History has shown us time and time again that rape and brutality against women only increase during times of war and humanitarian crisis. For the past three years, we have accompanied members of SEMA Ukraine: survivors of rape and other types of sexual violence since the start of the conflict in 2014.  Despite their tireless and outspoken efforts to obtain recognition, justice, and reparations for the crimes documented since 2014, their fight has not yet come full circle. Renewed conflict in Ukraine places them and other women and girls especially, at heightened risk of different forms of sexual violence.
Unfortunately, the continued occurrence of these crimes does not come as a surprise. The United Nations has recognised the disproportionate impact of conflict on women and girls (UNSCR 1325, 2000) and the use of sexual violence as a weapon and tactic of war (UNSCR 1820, 2008). In December 2020, the ICC Prosecutor determined that there was sufficient evidence at the preliminary examination stage to conclude that SGBV crimes, including rape, torture, and other acts of sexual violence had been committed since 2014 in Eastern Ukraine.
To ensure justice and redress for the victims of these serious crimes, it is of utmost importance that recently announced justice efforts explicitly include investigating and prosecuting when warranted the use of sexual violence. Further, in these efforts, it is crucial to ensure trauma and gender-informed evidence gathering and investigations to avoid re-traumatisation.
We call on States and humanitarian actors to increase sexual-violence prevention efforts and holistic care delivery for survivors of sexual violence in Ukraine and border regions.
We also ask State actors, international organisations and other stakeholders already working tirelessly to aid the growing numbers of refugees, to adopt a trauma-informed and holistic approach in their response efforts. The primary needs of civilians fleeing conflict – shelter, food, clothing, and basic services – must be covered, but all too often we have seen that other equally essential services are lacking: holistic care for survivors of conflict-related sexual violence.
Furthermore, in addition to the need to ensure holistic response services, there is also a need for States that receive refugees to do much more to prevent further victimisation, by mitigating risks for trafficking, sexual exploitation and different forms of abuse in receiving or transit facilities.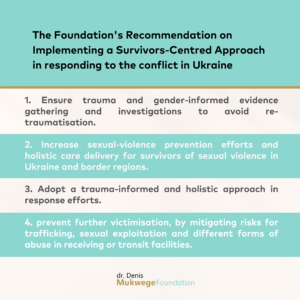 Read also:
Joint Statement by Dr. Denis Mukwege and Nadia Murad on the War in Ukraine