Ukrainian Survivors Refuse to be Forgotten
Seven years after Russian troops invaded Ukraine, women who survived captivity and sexual abuse during the conflict have found the courage to speak out and become activists. On February 20, 2014, Pro- Russian forces took over Crimea, killing and capturing Ukrainian civilians.  Women faced horrible conditions, torture, and sexual violence in captivity.  Many of the women are still displaced, living in poor conditions and want nothing more than to return to their homes.
Each survivor has her own unique and harrowing story and her own way of maintaining hope throughout their ordeal.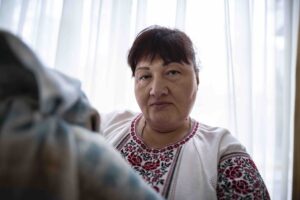 Iryna was badly beaten in prison and suffered a head injury that would not stop bleeding. She thought she had been left to die. A fellow prisoner gave her this scarf to wrap around her head to stop the bleeding. She used it as a head wrap and a pillow and eventually able to recover from her injury. She cherishes the scarf to this day.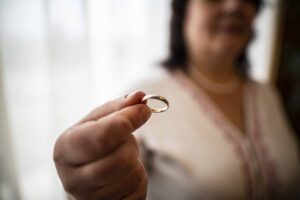 Everything was taken from Lyudmila when she was captured. As a military officer's wife, she was especially targeted for brutality. When she was finally set free, her captors gave her back her purse, empty of all contents. As she arrived to safety, she noticed something small in the corner of her purse. Somehow her wedding ring had survived as well.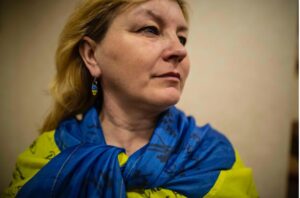 Olha is an avid football fan. She celebrated the opening of the new Donetsk football arena when it was built as a source of pride. When violence erupted, the area was overrun and the stadium was badly damaged. Olha was captured and tortured in prison. Years later, she is now a refugee from her home and still supports the Donetsk team, which no longer has a home stadium or access to Donetsk.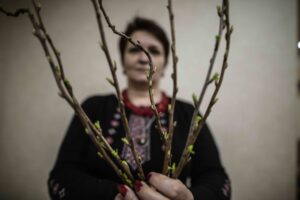 Tetiana's stepson had large black currant hedges in his yard. He died during the conflict. Now the smell of black currant brings back bittersweet memories of his loss.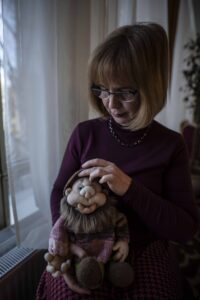 Iryna Dovgan was captured by Russian soldiers in Donetsk. She was famously photographed by the New York Times having been tied to a post and publicly humiliated. She has since become a vocal activist for human rights. During our meeting, she showed me images of her now occupied home on Russian social media. She retold memories of her children growing up in a home where a family of strangers now smile for Christmas photos.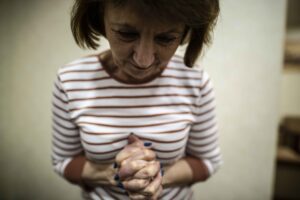 Halyna did not have an item to give her strength. Her strength she says was her silence.
The survivors have come together into a network called SEMA Ukraine. The name is inspired by the global network of survivors, SEMA, which is facilitated by the Dr. Denis Mukwege Foundation. Denis Mukwege, a Congolese gynaecologist who won the Nobel Peace Prize in 2018 with Nadia Murad, a Yazidi survivor of sexual violence in conflict.
The Mukwege Foundation seeks to extend the mission of Dr. Mukwege's work, advocating for survivors of sexual violence across the globe.
The women of SEMA Ukraine have become brave advocates themselves. They have trained the military and police, not only recounting their stories but also educating the troops about gender-based violence and human rights.