Dr Denis Mukwege Foundation held an Expert Conference on International Treaty Making Process
In March 2022, the Mukwege Foundation convened three online presentations with leading experts to explore various aspects of the international treaty-making process, existing treaty frameworks – including their enforcement mechanisms – and lessons learned from past and ongoing treaty-making campaigns.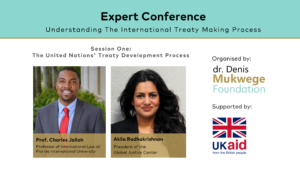 Following Dr Mukwege's call for action at the G7 annual summit in 2021, the Mukwege Foundation launched the RED LINE INITIATIVE. RED LINE is rooted in the knowledge that sexual violence as a method of war causes profound devastation and our belief that it can no longer be accepted as an inevitable part of armed conflict.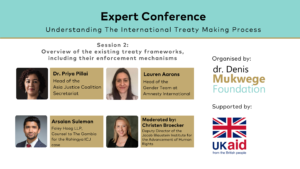 Although our collective horror is growing about sexual violence atrocities taking place in numerous conflicts – from DRC to Ethiopia to Ukraine – laws to hold perpetrators to account are weak and the existing legal frameworks are too often not enforced. We may not be able to stop wars from happening, but we can change how war is waged. THE RED LINE INITIATIVE's goal is to close the accountability gap, strengthening legal frameworks, underpinned by strong social outcry against sexual violence in conflict and the political will to prevent these atrocities.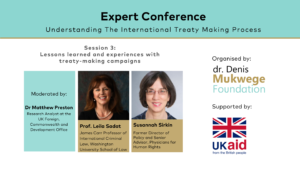 You can access the report of the event on our website or watch the full recording of the expert sessions on our YouTube channel.