Beyond Borders
Survivors from CAR and DRC strengthen their networks during a learning exchange.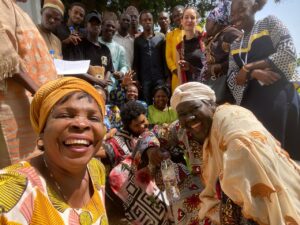 At the end of March 2022, the Mukwege Foundation facilitated a learning exchange between survivors from the Democratic Republic of the Congo (DRC) and the Central African Republic (CAR). Two members of the Mouvement des Survivantes en RDC flew to Bangui to share their stories with twenty-five survivors in the neighbouring country. The participants were members of the national survivors network in CAR, MOSUCA, as well as survivors from other Central African Republic networks.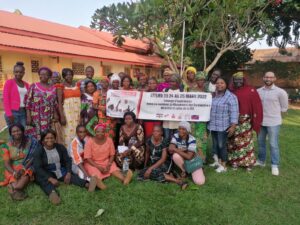 During the meeting, survivors from CAR learned from the experience of their sisters in DRC who have been advocating for their rights and raising awareness about the consequences of wartime sexual violence in their communities for the past 5 years. The discussions covered diverse themes such as network governance, outreach to new members, self-care methods to protect their own mental health, and strategies to advocate for reparations. The DRC Movement organises awareness-raising campaigns in schools, churches, and mosques to reach out to other survivors. Their advocacy strategies include dialogues with the authorities, petitions, marches and, of course, their film, SEMA.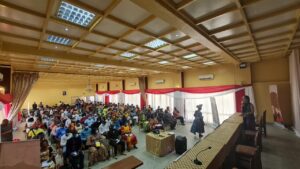 To close the week, the Mukwege Foundation and the Central African Republic's Minister of Gender, Marguerite Ramadan, co-hosted a screening of the SEMA film followed by a public discussion. The film was written by survivors and stars several members of the DRC Movement and their families.
The Minister praised the film, acknowledging that it is a powerful tool for advocacy and awareness raising: "I would like to congratulate the makers of this film, my sisters in the DRC who are women survivors of violence in their country and who are actors in this very moving film. This film is about violence that women suffer not only in their own homes but also in times of conflict through rape, which is a degrading practice. These women go through hell, not only psychological shock but also post-traumatic stress that can completely destroy their lives. We have the impression that we are experiencing a similar phenomenon in the Central African Republic with the conflicts we have experienced. We thank the Mukwege Foundation, which came to support Central African women who have experienced similar atrocities. This film is a support that accompanies public awareness actions."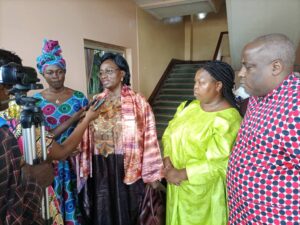 written by Jessica Stefffens