In Honour of Marieke Broekhoff
This summer, the family of Marieke Broekhoff informed us that Marieke had included the Mukwege Foundation in her testament. Marieke passed away in March 2022 after battling a rare type of cancer for years. Her family and friends mourned but also celebrated her life, characterised by courage, adaptability, and deep compassion for humanity.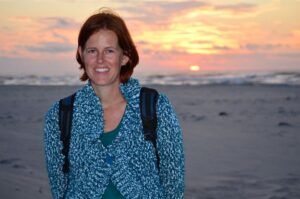 Photo credit: Broekhoff family archive
At 19, Marieke decided to study medicine in Maastricht. She loved exploring complex subjects and time at the national student union. Activism and supporting people in need were always at the forefront of Marieke's life. After her graduation, she started her career at Doctors Without Borders and was deployed to missions in the Democratic Republic of the Congo (DRC), Chad, Nigeria, Uganda, Bangladesh, Sierra Leone, Central African Republic, and Papua New Guinea. During her time in Papua New Guinea, Marieke was disturbed by the sexual violence and mutilation suffered by local women. The injustice motivated her to write an extensive report, Hidden and Neglected, about sexual and gender-based violence – which eventually made it all the way to the Minister of Public Health in the Netherlands.
Her commitment as a doctor in fragile and conflict settings was matched by her attention to detail and preparation. She would research and read every piece of information she could find before taking off on a mission – something that is increasingly necessary as humanitarian organisations have become targets for violent attacks. Marieke witnessed such an attack in the Central African Republic that led to the death of her team members. After this experience, she decided to return to the Netherlands and established herself as a GP in Leiden.
When Marieke was stationed in DRC, she became familiar with the work of Dr Mukwege at Panzi Hospital in Bukavu. As a doctor herself, Marieke was inspired by the work of Dr Mukwege and shared the same values of gender justice, advocating for women's health and rights. In her last days, Marieke decided that she would leave a legacy for organisations close to her values and heart. We are incredibly grateful for her generous legacy and are touched by her story of perseverance, courage, compassion, and idealism. Her contribution to the world – including to survivors of wartime sexual violence – shall not be forgotten.
Parts of this article were translated from Trouw newspaper.