Donation Update: SEMA Ukraine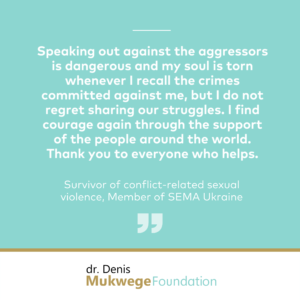 Dear supporters,
Since we launched the donation page for members of SEMA Ukraine, more than €11,340 has been raised. Thank you for standing with survivors and letting them know that they are not alone. With your support, the Mukwege Foundation can continue to assist the members of SEMA Ukraine. We are prioritising their immediate needs such as medicine, transportation, temporary shelters, and an allowance to help them survive in their new host countries.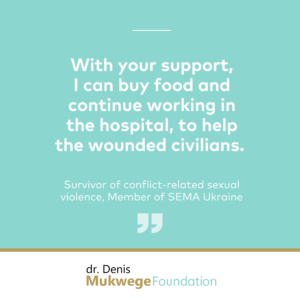 The Mukwege Foundation has been working with survivors of conflict-related sexual violence in eastern Ukraine since 2019. These are mostly Ukrainian women from the Donbas region who have been fighting to claim their rights to reparations and redress since 2014. With a new war devastating their country, these survivors are facing unimaginable challenges, not least because they have spoken out so publicly in the past about the occupation of the Donbas separatist-controlled territories.
We do not know when this conflict will end. However, we do know that most of the displaced persons in and fleeing from Ukraine are women and children. Some survivors have managed to get out of the war zone to neighbouring countries, others decided to stay with their families – amidst the shelling and serious shortages of food, water and other essential resources. All of them need support, protection, and rest. Once again they are in danger, and we will try our best to provide assistance for as long as help is needed.
You can still donate via bit.ly/semaukraine to help these women.