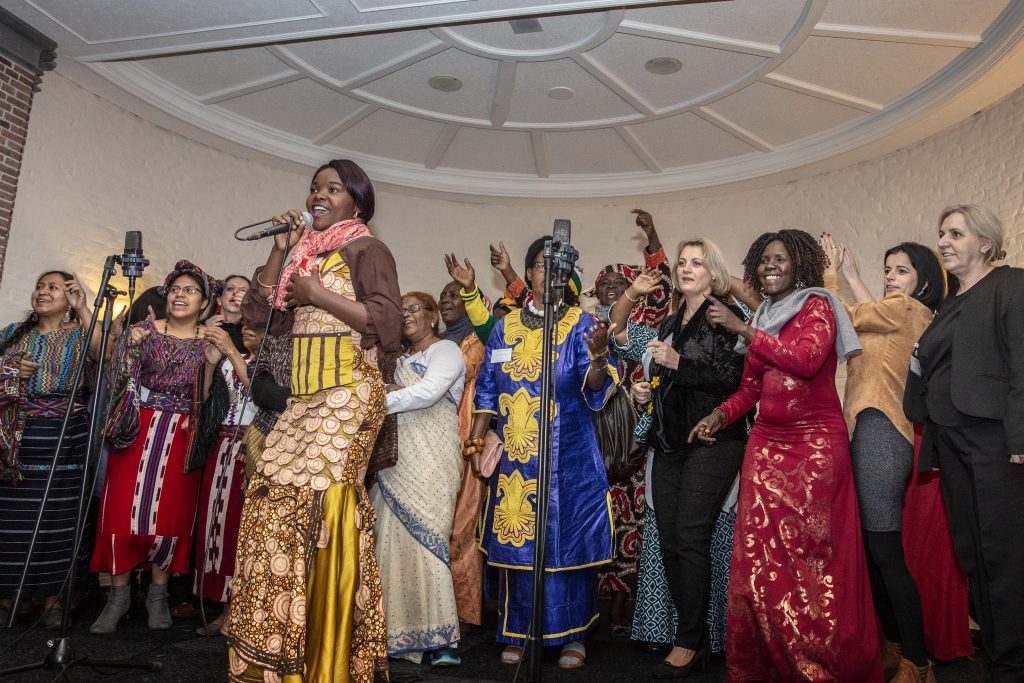 The past two years have seen survivors from SEMA speak powerfully at numerous international conferences and events to advocate for their rights.
Since the start of SEMA in 2017, our team has centered and supported survivors in their journey of healing and advocating for change through this network, which now unites survivors from over 20 countries. As a global survivor network, SEMA enables victims and survivors of conflict-related sexual violence to act in solidarity, working more effectively together toward change at international, national, and local levels.
---
Highlights of SEMA in action include:
March 2018 – two of SEMA's members received the #ChangeTheCulture award on behalf of the global network, given by Theirworld on International Women's Day.
June 2018 – four survivors spoke at the 38th session of the Human Rights Council in Geneva, calling for justice and reparations.
January 2019 – two survivors from SEMA participated in an expert meeting on reparations in New York, discussing the potential for an international survivors fund and ensuring that survivors' needs and voices would be at the core of such an initiative.
March 2019 – survivors took part in a side event the 63rd session of the UN Commission on the Status of Women, co-sponsored by the governments of Belgium, France, Senegal and Switzerland, calling for universal access to holistic care for all victims of wartime sexual violence.
June 2019 – the national survivors' network in DRC and the Mukwege Foundation collaborated with Panzi Foundation DRC, the Lutheran World Federation and the Right Livelihood Award Foundation to submit an alternative joint report to the DRC government's periodic review for the 73rd session of the Committee on the Elimination of Discrimination Against Women (CEDAW).
October 2019 – the Mukwege Foundation accompanied survivors as they shared their perspectives on how to effectively manage trauma at a major international conference on mental health and psychosocial support in crisis situations, hosted by the Dutch Minister for Foreign Trade and Development Cooperation in Amsterdam and the Hague.
October 2019 – SEMA members took part in the launch of the Global Survivor Fund at the 10th Anniversary of the UN Mandate on Sexual Violence at UN Headquarters in New York. This moment was the culmination of the survivors' advocacy, in collaboration with Dr Mukwege and Nadia Murad, and with the support of the Office of the Special Representative to the Secretary-General on Conflict Related Sexual Violence. Survivors gave compelling testimony about their realities and the pressing need for survivor-centred approaches to change.
November 2019 – survivors spoke at the Belgian Ministry of Foreign Affairs about the importance of reparations and the urgency of scaling up holistic care for survivors of sexual violence in conflict. SEMA was also invited to NATO's Brussels headquarters, where survivor Tatiana Mukanire spoke to an audience of one hundred NATO ambassadors and officers.