Prioritising Holistic Care for survivors of SGBV in the African Great Lakes Region
Kampala, Uganda 
27-28 January 2022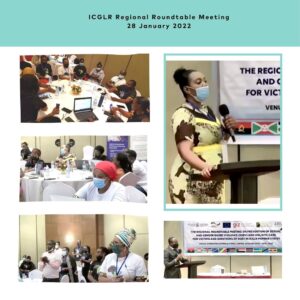 Slightly over ten years since the signing of the Kampala Declaration in December 2011, representatives of the twelve Member States of the International Conference on the Great Lakes Region (ICGLR) reunited to fast-track their commitments to the Declaration and listen to survivor's perspectives on holistic care. The representatives are experts from the Ministry of Gender, survivors of sexual and gender-based violence (SGBV), practitioners, donors and multi-lateral partners. Everyone came together with a shared-mission: improving the implementation of survivor-centred holistic care for victims/ survivors of SGBV in the region. 
At the end of January 2022, a two-day regional roundtable was held in Kampala with the support of Deutsche Gesellschaft fuer Internationale Zusammenarbeit (GIZ) GmbH. The meeting started with a presentation of the joint regional partnership between the Dr Denis Mukwege Foundation, Panzi Foundation DRC and the ICGLR Regional Training Facility (RTF) and a summary of what has been achieved during this partnership. Day one focused on sharing and receiving feedback on findings and recommendations from a 6-month regional study on the implementation of holistic care in the Great Lakes region. This was followed by a refresher on the regional integrated training model – which incorporates Panzi's "one stop centre" model of holistic care with RTF's Socio-Ecological SGBV training model. On the 2nd day, the participants exchanged knowledge and lessons learnt from the two-year pilot initiative. They brainstormed together on advocacy best practices that can ensure commitment from all member states to adopt the holistic model over a five-year period. 
All stakeholders acknowledged the benefit of the pilot project that was implemented between 2020 and 2021 in the Central African Republic (CAR), Democratic Republic of Congo (DRC), Rwanda, Uganda and Zambia. This pilot programme is supported by GIZ under the framework of the Regional Project on Peace and Security in the Great Lakes Region, co-funded by the German Ministry for Economic Cooperation and Development and the European Union. As part of the pilot project, trainers from the ICGLR RTF have conducted "trainings of trainers" to make sure that there are trained SGBV professionals in each country to increase access to survivor-centred holistic care for survivors of SGBV. The Integrated Training Model is seen as a best practice standard in the region when it comes to providing holistic care and it was inspiring to see the motivation during this regional roundtable to push forward its implementation.  
In addition to highlighting best practices, project partners also evaluated obstacles and barriers faced by institutional partners when implementing holistic care in the region. The most valuable inputs came from the survivors who actively take part in advocating for quality holistic 'one-stop-centres'. Grace Achan, a survivor from Uganda, asked ICGLR member states to expand their coverage to areas where their service is most needed. Grace noticed that unequal access to holistic care between the cities and more remote areas meant that outreach capacity can be improved. On a similar note, another survivor, Sylvia Acan, emphasized that survivors need to know about their rights and how to get help. Their inputs are crucial in making sure that the needs of survivors of SGBV are being met without stigma or discrimination as they are trying to rebuild their lives.  
The survivors were joined by Bertin Rutega, Head of Programmes at Panzi Foundation DRC. Bertin said that there can be no peace without justice, "Without transitional justice, sexual and gender-based violence will not be eradicated in our sub-region." Katrien Coppens, Director of the Mukwege Foundation was also present at the event. "Over ten years ago, the ICGLR was one of the first regions to prioritise SGBV prevention and response as part of a peace and security agenda – so we are immensely proud of this partnership, but I also hope that looking back 12 years will also show that the roll-out has not been that fast and there is work for all of us to do.  What we discuss here today is a reality for survivors and they can no longer wait." 
The Mukwege Foundation, along with its partners Panzi Foundation DRC, the Regional Training Facility, and ICGLR Member States will continue to advocate and engage survivors to fulfil their rights and priorities for holistic care – with the support of the European Union and the German Ministry for Economic Cooperation and Development (BMZ) through GIZ.