The medical campaign
In the second half of 2022, our team in the Central African Republic (CAR), in collaboration with the national survivor movement, Ministry of Health and the UN Fund for Population Assistance – organised a medical campaign in two of CAR's most conflict-affected prefectures. The campaign was made possible with the expertise of our sister organisation Panzi Hospital and funding from the UN OCHA Humanitarian Fund in CAR. The need for campaigns like this, is apparent in CAR where services are largely unavailable in areas outside of the capital city, and travel to the capital is costly, dangerous and out of the question for many victims of violence and women and girls living with grave gynaecological problems.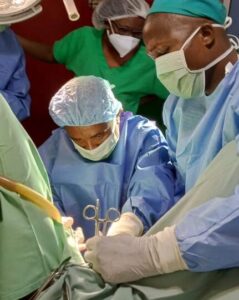 Untreated sexually transmitted infections, vaginal or anal tears, fistula and prolapse are just some of the medical consequences of sexual violence in CAR. Lack of access to emergency obstetric care, also means that many women and girls in remote communities in CAR, live sometimes for many years with grave gynaecological concerns such as fistula and prolapse. Treatment requires specialised medical and psychological care, and patients need to stay at or close to a facility for the duration of their recovery.  
To prepare the medical campaign, MF team-members in CAR and members of the survivor movement (MOSUCA) travelled to Paoua and Bossongoa to meet and sensitise key actors including with other survivors themselves. As trust has grown over the year between our team and these communities, we have been able to confirm our knowledge of the many constraints preventing victims and survivors from coming forward to seek care and indeed, accessing Bangui for specialised care. These include, but are not limited to, an unavailability of safe and reliable public transport, financial constraints, security risks on the roads and fears of stigmatisation at service-provision structures and exclusion upon return. For women and girls with grave gynaecological conditions, these fears are the same, as concerns about their odour, leaking and more may keep them living in silent hiding at home. 
This first medical campaign aimed to respond to the most urgent needs for specialised medical care, notably, gynaecological surgery in hard-to-reach, conflict-affected areas outside the capital city. The high demand for care in remote parts of CAR has always been clear, but was made more real to our team, following their time in the Poaua and Bossangoa areas. From 22 August – 10 September 2022 the campaign led to 105 surgeries being conducted.  Still, at the end of the campaign, around 133 patients are still waiting to receive care. For these patients, the Mukwege Foundation will work to ensure referrals to Hospital de l'Amitié in Bangui for treatment, as part of our role in the Nengo project.  
According to Nelly Efozo, the programme manager for the Mukwege Foundation in CAR: "The mobile clinic is a huge hit among the population in Bossangoa and Paoua who came from more than 25 km."
According to one survivor who received treatment for fistula,
"I thank the Mukwege Foundation for this work of goodwill that contributes to saving lives. After my operation, if everything goes well, I will have the courage to sit in the middle of people without being afraid that they will shun me due to my malodour. I will start doing activities again to take charge of my life."