Launch of the Survivors' Call to Action at the International Ministerial Conference on Preventing Sexual Violence in Conflict Initiative, London
On 28-29 November 2022, victims and survivors of wartime sexual violence were joined by Government representatives, Civil Society Organisations, and other stakeholders in London, United Kingdom. They were invited by the British Foreign, Commonwealth, and Development Office (FCDO), for the Global Conference on Preventing Sexual Violence in Conflict. Dr. Denis Mukwege and The Mukwege Foundation were present at this conference to stand with members of the SEMA Network who took center-stage in multiple sessions.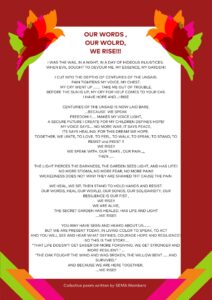 Image: SEMA members recited a poem at the opening of the conference. 
The two-day conference aimed to strengthen the global response in preventing conflict-related sexual violence (CRSV); deliver justice and accountability; support survivors; and explore the vital contribution of the Women, Peace, and Security agenda towards preventing CRSV. During his opening remark, Lord Ahmad, the Prime Minister's Special Envoy for Preventing Sexual Violence said, "We know how to prosecute perpetrators and in the next two days, we are going to discuss how to accelerate our work." 
Currently, less than 1% of global funding is allocated towards the prevention and protection of civilians from CRSV. This indicates underfunded civil protection and legal instruments to effectively prevent and prosecute wartime sexual violence.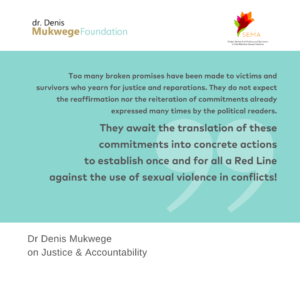 At the same forum, Dr. Denis Mukwege stressed that "among the four pillars of holistic assistance – medico-surgical, psychological, socio-economic and legal – the first three have evolved well in recent years, mainly thanks to civil society, but justice remains the missing piece of the puzzle because it is the responsibility of states. States bear the primary responsibility for prosecuting and trying military and political leaders of the crimes committed on their territory, and also a number of strategies aim to strengthen national capacities to fight impunity, which remains the norm rather than the exception in prosecuting sexual crimes."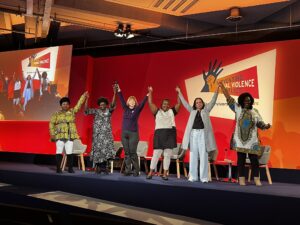 Photo: Global Survivors Fund 
Following the plenary sessions on the first day, victims and survivors of wartime sexual violence claimed the stage and spoke out on issues close to their hearts such as: prevention of CRSV, reparations, the importance of a victim/survivor-centred and trauma informed approach in investigating CRSV, the rights of children born of wartime rape, the roles of survivors in peace processes and mediation, and many other fundamental topics.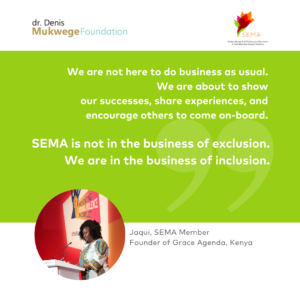 SEMA members also issued the Survivors Call to Action demanding that decision-makers act now to end CRSV. The Call to Action guides decision-makers on four different areas that matter to survivors: prevention; response; justice and accountability; and reparations. 
You can read and support Survivors Call to Action by signing the petition on this page.