Iryna, a survivor of sexual violence during the conflict in Ukraine, bravely stood on stage and told her story at the Ending Gender Based Sexual Violence Conference in Oslo, Norway on May 24, 2019.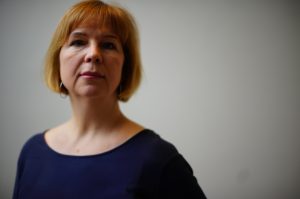 I have a very female profession, a beautician. For many years my life has been filled with women. Funny, active and beautiful. Then five years ago, war broke into our lives. Several months of propaganda of the neighboring country were enough to make people in my region believe in a rich and happy life as a colony of the Russian Federation.
The region was filled with armed people, many locals left. Some women and I
organized a group, daily risking their lives to support the soldiers of the
Ukrainian army, going to the place of their deployment. We cooked, baked,
collected clean clothes and towels. We also brought medicines. It was very
scary, but we understood that it was our feminine and civic duty.
I was arrested by citizens of the Russian Federation on a tip-off from a
neighbour. I went through torture, violence, and humiliation. I survived.
It took me a while to recover. And again, I organized a group of women. For
two years now we have been helping people illegally imprisoned in the
occupied territories. In these places of detention prevails complete
lawlessness. None of the humanitarian missions were allowed there. We
manage with great difficulty to transfer food, medicine, and some clothes to
prisoners. We all live in different cities, some of us are Ukrainians who have
long lived in Europe. In 2014, the state could not supply the army; women took it upon themselves. In 2018, official negotiations were stopped, and again
women did the impossible.
Today, thanks to the cooperation with The Dr. Denis Mukwege Foundation and the SEMA network, it is possible to consolidate women who have suffered like me in the conflict-affected zone, and we have the first achievements in this.
The participants of the network are united by their experiences, so we always understand each other, always ready to help. Psychological support, in
particular, the ability to get help from a psychologist is what is necessary for survivors. As well as fixing and documenting the facts of violence, so that
criminals would be brought  justice, even after many years.