Grace's Story: Advocating for Survivors' Rights from Entebbe to Brussels
SEMA member Grace Acan speaks on an expert panel at the European Council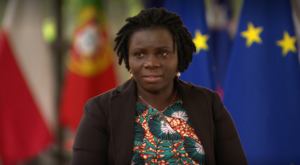 Since 2015, June 19th is dedicated to honouring victims and survivors of wartime sexual violence. To mark this important date, the European Council organised an expert panel,  Women in Conflicts, engaging Grace Acan – a SEMA member from Uganda – as one of the key experts. 
Grace was joined by Dr Denis Mukwege, Nadia Murad, Olena Zelenska (the First Lady of Ukraine), Charles Michel (President of the European Council), and other speakers to discuss the consequences of wartime sexual violence. The panel spoke about the aftermath of sexual violence and responses to it, and reminded the audience that preventing sexual violence and ensuring that justice is done are urgent priorities to make sure history does not repeat itself.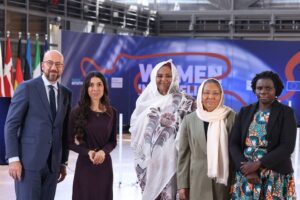 As a survivor who endured the brutality of the Lord's Resistance Army in Uganda, Grace fought back to rebuild her life. She co-founded an organisation called Women's Advocacy Network Uganda and documented survivors' stories through multiple research projects, as well as a book, titled Not Yet Sunset. Prior to attending the talk in Brussels, Grace also spoke in The Hague during the World Justice Forum. She continued her journey to Brussels on behalf of the SEMA Network to speak up and share wisdom about survivors' needs from the perspective of a survivor. 
In her view, "The needs of survivors are many. It is social, economic, medical, and psychosocial. Unless those are addressed, you can never say that you have done enough for survivors. As a survivor, I felt and I still feel what they (the other survivors) feel. That is why I came and said together, 'we can do something and change our lives. We can advocate for redress for the violence that took place on survivors." 
Grace understands that there is strength in unity. She realises that the work she is doing as a social worker, researcher, and activist for women's rights is not hers alone. She said, "We do the work together. Unity is strength, so I am doing this with other survivors. I am engaged with SEMA – the global network of survivors – but also with the national survivor networks in Uganda. We do not see changes happen immediately, but it is a process, and a little bit we can see it (change) is coming. At home, we are trying our best so that the current policy that has been enacted works for the good of the survivors."  
Dr Denis Mukwege, who joined the discussion virtually, raised his concerns about the lack of legal proceedings against wartime sexual violence. Of the hundreds of thousands of cases of sexual violence in committed in conflicts around the world, only three perpetrators have been convicted for using sexual violence as a method of warfare. 
"The thirst for dignity of victims who have recovered physically, mentally, and socially has led us to accompany them on the road to justice, which unfortunately remains the weakest link in the process. Why is this so? Because it is the responsibility of the States. All the other pillars have progressed thanks to the determination of civil society. Justice can only be done by States, and it is time for them to mobilise to put an end to the culture of impunity, which remains the norm rather than the exception in matters of sexual crimes, both in times of conflict and in times of peace," said Dr Mukwege. 
The full discussion hosted by the EU Council is accessible on their website . 
Like Grace, other survivors in different countries agree on the importance of ending impunity and obtaining justice. They are looking forward to seeing the day when wartime sexual violence bears consequences for perpetrators.