GENDERING GEOPOLITICS: THE CASE OF UKRAINE
25 Feb 2022 – Trigger warning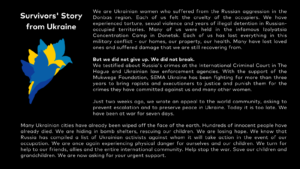 As the horror of the Russian conflict in Ukraine continues to unfold, Emily Prey (Senior Analyst of the New Lines Institute) sat together with Esther Dingemans (Founding Director of the Dr. Denis Mukwege Foundation). Together, they brought attention to women at risk of violence before and during the recent conflict in Ukraine.
The current invasion that started on 24 February 2022 is not Russia's first aggression on Ukrainian territory. When Russian-backed separatist groups occupied Donbas, and Russian armed forces annexed Crimea in 2014, one of the tactics that they used was sexual violence.
"When sexual violence is used as a weapon of war, it's more than just a technique to get information or force confessions. It is also about causing deliberate harm, not just to the individuals, but to their family members as well, and broadly speaking, to instil fear in the entire community. In the case of Ukraine, it was really about breaking the resistance," said Dingemans in the interview.
Victims and survivors of conflict-related sexual violence (CRSV) in the Donbas region of Ukraine have spoken out about the sexual violence they experienced in unlawful detention centres during the 2014 conflict. Their testimonies of forced nudity, assault, gang rape, and sexualised torture are evidence of the use of sexual violence deployed strategically in conflict, for example to force confessions, or to demand ransoms from their family members.
In 2019 these survivors came together to form a national survivors' network, SEMA Ukraine, transforming their pain and advocating powerfully for justice.
Sexual violence has been committed on a large scale in the occupied territories from 2014 onwards. Recognising this, it is likely that women and girls are at particular risk of sexual violence in the conflict today. Ukrainian allies and neighbouring countries need to prepare for refugees who are traumatised and in need of holistic care. Watch the full video below:
Donate today to support members of SEMA Ukraine to find safe spaces and care.
We would like to thank The New Lines Institute and Emily Prey for bringing attention to the women and girls in conflict.
The New Lines Institute for Strategy and Policy is a nonpartisan think tank in Washington D.C., working to enhance U.S. foreign policy based on a deep understanding of the geopolitics of the different regions of the world and their value systems. Gendering Geopolitics is a talkshow led by Emily Prey that examines geopolitically significant issues through a gendered lens.