The Dr Denis Mukwege Foundation is an international human rights organisation, dedicated to end rape as a weapon of war worldwide.
Our board members
Special adviser: Dr Denis Mukwege
Chair of the board: Marieke van Schaik
Treasurer: Ellen Bien
Other board members: Julie Verhaar, Adriana van Dooijeweert
According to the Foundation's policies, board members are not remunerated, but may claim compensation for reasonable expenses. The Foundation's staff is currently employed either through a payroll company or contracted as consultants.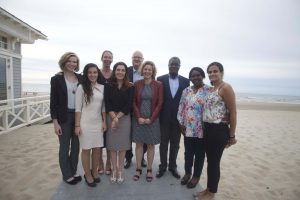 The Mukwege Foundation and Panzi
Dr Denis Mukwege founded Panzi Hospital in 1999 to function as a general hospital for the surrounding community. However, as the conflict progressed and more victims of sexual violence sought care at Panzi Hospital, the focus of the hospital shifted to providing medical care to survivors of sexual violence.
In 2008, Panzi Foundation DRC was created to support the hospital and ensure the provision of other services, such as legal assistance, psycho-social support and socio-economic programmes. Together, Panzi Hospital and Foundation offer a holistic model of care for survivors of conflict-related sexual violence.
Panzi DRC's sister organisation, the US-based Panzi Foundation USA, raises funds in the United States and makes strategic investments at Panzi Hospital and Panzi Foundation DRC.
The Mukwege Foundation collaborates with all organisations of Panzi. We support the foundation and the hospital in the DRC through fundraising and the development of international partnerships. Together with the team in the Congo, we promote the holistic model of care worldwide. Our goal is to use the outstanding expertise of Panzi DRC in working with survivors of conflict-related sexual violence to extend best-practices to other conflict-affected countries.
While the Panzi Foundations work to support victims of sexual violence specifically in Congo, the Mukwege Foundation uses a global approach to connect survivors worldwide, promote the application of holistic care, and engage influential stakeholders to advocate for an end to wartime sexual violence everywhere.