Thank you to @TwinsforMukwege for raising €1500 through Instagram for the Mukwege Foundation
Two young female activists initiated an inspiring campaign to raise €1500 for their donations to the Mukwege Foundation for their celebration of their 21st birthday.
"Every cruel thing that happens in the Democratic Republic of Congo doesn't even make it into 'Important' news and is seen as normal. It hurts to see how ignorant people are towards African countries and their lack of empathy toward minority groups. People are suffering. How can we just watch and let this happen when dozens of women are getting killed and raped daily by rebels?" @twinsformukwege
Born in Belgium and raised by a Congolese mother, two young female activists, Magali and Jessica, initiated a 39 day campaign to raise awareness about conflict-related sexual violence and to collect donations for the Mukwege Foundation through their Instagram account, @twinsformukwege. They planned to raise money for donations to the Mukwege Foundation on their celebration of their 21st birthday on October 21st, 2019.
"We were raised by a beautiful woman who was born and raised in Kivu. Ever since we were little, she has told us all about Bukavu and her beautiful country, Congo. We might not all be connected by blood but it sure feels like it. We'd like to consider us all like one family, and it breaks our heart to see our family suffer." Motivated to make a change, Magali and Jessica decided to start this campaign to help survivors to amplify survivors' voices.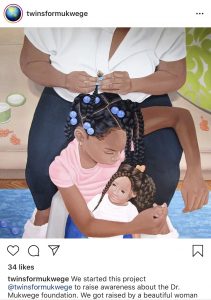 Magali and Jessica raised awareness about the conflict-related sexual violence by introducing a variety of projects done by the Panzi hospital and the Mukwege Foundation, such as the holistic care which promotes a combination of medical, psychological, legal and socio-economic support to survivors. They used their voices to share stories of survivors, posted by Panzi Foundation. On their 21st birthday, October 21st, 2019, Magali and Jessica announced that they raised €1500 for their donations to the Mukwege Foundation.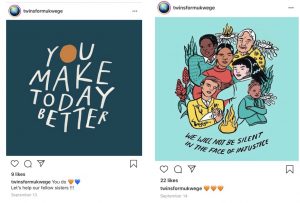 Magali and Jessica are an example of what activism can do to make a change by sharing our message to end sexual violence in conflicts as a weapon of war. You too can make a difference by following us on social media and getting involved with the Mukwege Foundation.
To follow us on Instagram
https://www.instagram.com/mukwegefoundation/
To get involved with the Mukwege Foundation