Global Survivors Fund will officially launch on October 30th
On October 30th, Dr. Denis Mukwege and Ms. Nadia Murad, co-recipients of the 2018 Nobel Peace Prize, will officially launch the Global Survivors Fund at UN Headquarters in New York City, which commemorates the 10-year Anniversary of the Mandate on Sexual Violence in Conflict.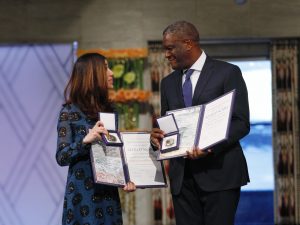 "Giving women reparations can help them resume their lives and are a way to rebuild the fabric of societies, families and communities." – Dr. Denis Mukwege
The Global Survivors Fund is built upon the collaborated works of Dr. Denis Mukwege, Nadia Murad, and the United Nations with the voices of survivors of conflict-relates sexual violence. The fund is a survivor-centric mechanism which aims to ensure survivors of conflict-related sexual violence have access to reparations and other forms of redress and reintegrate fully into their communities.
The Global Survivors Fund will bring diverse stakeholders together in an innovative partnership to address the needs of survivors, as it is growing in recognition and support. During the G7 meeting in August, French President Emmanuel Macron announced France's support to the Fund by pledging 6 million Euros. EU Council President Donald Tusk also addressed the EU's support by contributing 2 million Euros to the Fund.
For the press release, please click here
SurvivorsFUNDlaunch – 30th October
If you would like to know more about this innovative fund, its organization, and how it works, please visit